Jontavious Willis to Headline RiddleFest 2023 at Burnsville Town Center
October 21, 2023, 7-9 PM
"Jontavious is a great new voice of the 21st century in the acoustic blues. I love the way he plays." Taj Mahal, blues artist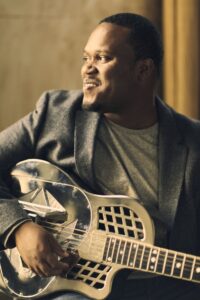 Georgia blues man Jontavious Willis will headline this year's RiddleFest on October 21st, exploring the regional variations of traditional blues. The concert begins at 7 PM at the Burnsville Town Center, 6 South Main Street. Well-known Mitchell County musicians Rhonda Gouge and Sam McKinney will open the evening with a set of acoustic guitar selections. Tickets for this year's concert are $20 for adults.
RiddleFest is produced annually by Traditional Voices Group as a tribute to Lesley Riddle, an African American musician from Yancey County NC, who influenced the development of early country music through his collaboration with A.P. Carter and the Carter Family. Like many African American musicians in the South, Riddle was a blues man. He played in the traditional Piedmont style, but he was also an innovator who straddled the worlds of black and white mountain musicians in the early twentieth century. A historical roadside marker in his honor can be seen on the south side of Hwy 19E just west of the town of Burnsville.
Jontavious Willis is a young African American singer-songwriter from rural Greenville GA who plays the blues. He is a self-taught musician, who grew up singing gospel music at the Mount Pilgrim Baptist Church with his grandfather. As a youth, he was influenced by the work of senior blues men Muddy Waters (guitar), Sonny Boy Williamson (harmonica) and Papa Charlie Jackson (banjo). Willis plays all types of country blues, including Delta, Piedmont, Texas, Gospel blues. As a multi-instrumentalist, he is equally adept as a finger-picker, flat-picker and slide player.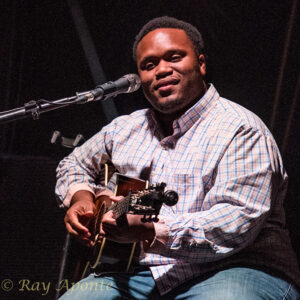 The blues is a musical form that originated in the southern United States in the 1860s. A mix of African American spirituals, work songs, field hollers, shouts and chants, and rhyming ballads, the blues evolved in the 20th century from the unaccompanied vocal music and oral traditions of slaves into a variety of musical subgenres, including country blues (Piedmont blues, Delta blues, Gospel blues) and urban styles (Chicago blues, West Coast blues). The blues is the basis of jazz, rhythm and blues, and rock and roll, which are musical styles that define American music both here and abroad.
Willis performs throughout the United States, Canada and internationally. His debut album, Blue Metamorphosis, was released in 2016 and garnered rave reviews from such notable magazines as Living Blues and Blues & Rhythm. In 2018, this album earned the Best Self-Produced CD Award from the Blues Foundation through their International Blues Challenge. His second album, Spectacular Class (produced by legendary Grammy artists Taj Mahal and Keb'Mo'), was nominated in 2020 for a Grammy Award for Best Traditional Blues Album.
Willis will also lead this year's RiddleFest Seminar. The RiddleFest Seminars explore Riddle's life and music through the lens of contemporary musicians. For this year's Seminar, Willis explains the origins and character of traditional country blues, focusing on the Piedmont blues that was Lesley Riddle's genre. He will also explain from his own experience as a songwriter how the blues is evolving in the 21st century. The Seminar, sponsored by NC Humanities, is free and open to the public. It begins at 3:00 PM on October 21st in the Burnsville Town Center. NC Humanities is the North Carolina affiliate of the National Endowment for the Humanities.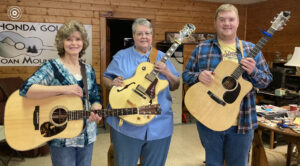 Rhonda Gouge and Sam McKinney will open RiddleFest 2023 Concert. Sam grew up in the Altapass community of Mitchell County listening to Doc Watson and Jimmy Rogers and became interested in the blues, specifically North Carolina Piedmont blues, at the age of 13. He studied under Rhonda Gouge for several years and still considers Rhonda his biggest musical mentor. Gouge has played guitar since she was a young girl. "I was exposed to music through my mom and her family," she says. Rhonda's mother was an expert shape-note singer and could play piano by ear. Self-taught as a guitarist, Rhonda spent many days visiting neighbor, old-time fiddler Oscar "Red" Wilson, a North Carolina Folk Heritage Award recipient, who encouraged her talent. Eventually, friends started asking her for lessons, and her teaching career was born. Gouge was named A North Carolina Heritage Award recipient in October 2022. Together McKinney and Gouge play a wide range of acoustic music, including, but not limited to, bluegrass, country, traditional mountain music, blues, story songs and murder ballads, and traditional gospel songs.
For further information visit Traditional Voices Group's website, www.traditionalvoicesgroup.org, their Facebook page, or the Burnsville Town Center, www.BurnsvilleTownCenter.com. Tickets will be available about two months prior to the concert through Eventbrite.com or at the Burnsville Town Center, 828-682-7209.