Seminar Souvenir Booklets
RiddleFest Seminar Souvenir Booklets
RiddleFest is a concert that has been produced annually by Traditional Voices Group since 2008. Each year we select regionally and nationally known musicians to perform old time music, blues or gospel music, musical genres that informed Lesley Riddle's music and the early history of country music. In some years, with the help of the North Carolina Humanities Council, we also produced an informative seminar on selected aspects of this music. As part of each project we published a summary booklet as a record of the seminar presentations and discussions. Copies of the booklets have been distributed to public school and university libraries in the region. We have some remaining. These are described below and an order sheet is furnished for those who wish to add these booklets to their personal libraries. Order Form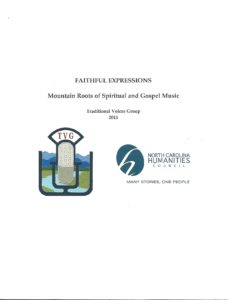 2011 Faithful Expressions: Mountain Roots of Spiritual and Gospel Music, 16 pp
The booklet summarizes three workshops from a day-long seminar about the sources and styles of spiritual and gospel music in the foothills and mountains of western North Carolina. Sessions included Laura Boosinger on singing from shaped-note scores; Dr. Tony McNeill, conductor of Appalachian State's Gospel Choir, on the roots of black gospel music from African songs and Pentecostal music; and ETSU Professors Dan Boner and Lee Bidgood with their students, who traced the evolution of traditional sacred Appalachian music into today's gospel quartet practice. A source bibliography is included.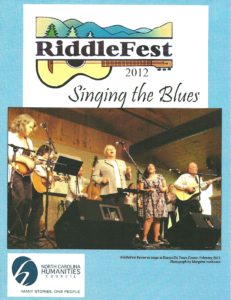 2012 Singing the Blues, 16 pp
Summaries of three sessions are included in this booklet. Professor Kathy Bullock, chair of Berea College's music department, discussed African roots of the blues, beginning with the role of music in Africa where there is no clear line between sacred and secular life and moving on to the slave experience in the new world and the emergence of the blues from spirituals during Emancipation. Blues man Scott Ainslie defined the character of the blues and discussed the variations we recognize today, particularly the Delta blues as practiced by Robert Johnson and the Piedmont blues of North Carolina, which provided a context for Lesley Riddle's music. Riddle's biographer, Professor Barry O'Connell from Amherst College discussed Riddle's life and times. A source bibliography is included.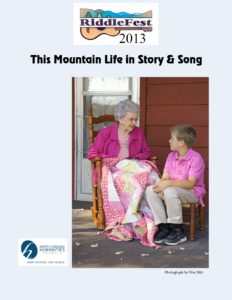 2013 This Mountain Life in Story & Song, 16 pp
In this seminar, Laura Boosinger discussed the history of ballad singing in North Carolina, contrasting ancient ballads that were brought here by British immigrants (The House Carpenter, Child Ballad #243, for example) with ballads about original NC events (Naomi Wise and Tom Dula). Professional story teller Michael Reno told a story about his growing up and sang an original song, Anthem for North Carolina that explores the state's unique characteristics. The lyrics for all of this music are included in the booklet. Larry Howell, accompanied by local musicians, told the stories behind Lesley Riddle's songs. A short bibliography on storytelling is included and a list of storytelling organizations in North Carolina.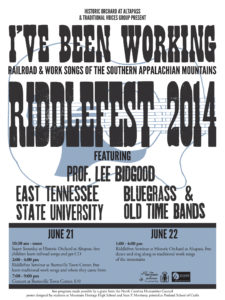 2014 I've Been Working: Railroad & Work Songs of the Southern Appalachian Mountains, 16 pp
Produced in collaboration with the Historic Orchard at Altapass
ETSU Professor Lee Bidgood and his students celebrate the legacy of Lesley Riddle and the history of the Clinchfield Railroad through story and song presented as lesson plans for elementary and secondary classrooms. The Clinchfield Railroad (CRR) was an operating and holding company for the Carolina, Clinchfield and Ohio Railway. Construction began in 1905. The famous Clinchfield Loops, a series of broad switchbacks which are preserved within the Altapass Orchard, were completed in 1908, and full railroad operation began in 1924. The 266-mile line ran from the coalfields of Virginia and Elkhorn City, Kentucky, to the textile mills of South Carolina. It also provided access to numerous scenic wonders of the Appalachian region.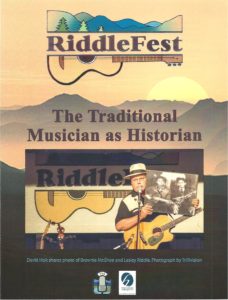 2017 The Traditional Musician as Historian, 8 pp
Professional musician David Holt and ETSU Professor Roy Andrade recount their musical biographies and discuss their personal approaches to incorporating old time music into their practices. Holt has worked his whole career to find old-time musicians, interview them, and learn their unique licks. Andrade, who is a generation younger and has had far fewer opportunities to meet old-time musicians personally, explains how he introduces his ETSU students to old time music through original source recordings from which they learn timing, phrasing, and musical inflection.