The first undertaking of the Traditional Voices Group, indeed even before we had an official name, was to preserve and promote the music of Yancey County native son, Lesley Riddle. Our other ongoing objective with Lesley was to gain recognition for him as one of the unheralded contributors to the formation of early commercial country music.
Lesley Riddle was born June 13, 1905 in the Silvers Gap community of western Yancey County. Before he entered his teens, his parents, Ed and Hattie, separated and Hattie took the three children and moved to Kingsport, Tennessee. The CCC Railroad had just finished construction from near Burnsville to Johnson City, which made travel much easier. Easier as in a train ride of six hours as opposed to a horseback trip of three days. The Riddle family would move back and forth between Burnsville and Kingsport several times over the next twenty years.
When he was in his mid-teens Lesley had a horrific accident on a visit to the Clinchfield Cement plant to see a friend, in which his right foot slipped into an auger in the floor. The giant screw chewed his leg off up to the knee. By all rights, he should have died, if not from shock then infection. He lived and the state of North Carolina provided him some rehabilitation and education at a facility in Durham.
This handicap allowed Lesley a lot of down time and he became interested in the guitar. His mother's brother, Ed Martin, played guitar and knew dozens of blues and gospel numbers. Ed taught Lesley some guitar techniques and introduced him to other musicians around Kingsport.
Lesley was barely healed from his leg amputation when he and Uncle Ed were arguing over a shotgun. The gun discharged while Lesley's right hand gripped the end of the barrel. He lost the middle and ring fingers of his hand. Later, Lesley had to adjust his picking techniques to use only his thumb, index and little fingers.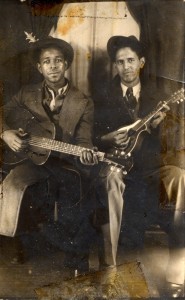 John Henry Lyon's front porch was a favorite hang out for East Tennessee musicians and others traveling through the area. Blind Lemon Jefferson, Sticks and Brownie McGhee, Steve Tartar and others frequented the porch. On a Sunday morning in late 1927, A.P. Carter paid a visit to the porch looking for songs for the Carter Family's second recording session with Ralph Peer of Victor Records. As Lesley described it, John Henry passed a guitar to Lesley and told him to "play Mr. Carter a piece. I played him a couple of pieces and Mr. Carter wanted me to go home with him right then and there."
This began a musical partnership that lasted over five years and a friendship that endured for half a century. Lesley would spend as much as two weeks at a time with A.P. and Sara Carter in their home in Mace's Springs, Virginia. Just down the road lived Maybelle and Ezra Carter. As Lesley would later describe it to Mike Seeger, "I played somewhere all the time. Sometimes, down at Ecks (Ezra), most times at Mr. Carter's, just playing and singing, that's all we would do."
What the Carters got from these jam sessions were Lesley's repertoire of blues and gospel songs; songs he had learned from Steve, Blind Lemon, Brownie and John Henry and others he had had heard his mother and Ed Martin sing. Lesley told Seeger that the Carters rarely ever played for him.
Forty years later, when Seeger was recording Lesley, he could see and hear the similarities between Lesley's picking style and that of Maybelle Carter so he asked him if he ever gave her lessons. Lesley replied, "No, I didn't have to. She would just watch and learn. She was that good." Both Lesley and Maybelle used a pocketknife for their slide guitar work.
The Carter Family quickly became, along with Jimmie Rodgers, the top two recording artists of the Victor Company and Peer pushed them constantly to get new songs for recording sessions. None of the Carter's was a prolific songwriter and they had exhausted the ones their neighbors knew, so it fell to A.P. and Lesley to hit the road in search of new material. The unlikely pair, a gangly, palsied near forty year old white man and a black double handicapped handsome twenty something, made for a strange sight as they would knock on doors at head of the hollow cabins as well as hovels in the few black sections of the southern Appalachians. If the residents had some old songs, A.P. would write down the lyrics and Lesley would strum along and memorize the melody. These excursions would sometimes last three weeks with A.P. having to find accommodations, usually in someone's home, where both a black and white guy were welcome. Most times they slept in separate dwellings. Finding a meal presented the same problem with A.P. dining at the family table and Lesley eating in the kitchen.
A.P. and Lesley would return to the Spring's and, along with Sara and Maybelle, rework the tunes into something acceptable to Peer. We can be sure that most of the tunes with A.P. getting the credit as the writer came from these song-gathering trips. Music historians have puzzled for years over which songs the Carters got from Lesley.
From Barry O'Connell: Maybelle Carter always credited Lesley as the source for "The Cannonball," especially for her guitar runs, the influence of which is everywhere in subsequent country music. We can say with reasonable certainty that Lesley taught the Carters: "The Cannonball," "Lonesome For You," "If You See My Savior," "One Kind Favor," "The Storms Are On The Ocean," "Out On The Ocean A-Sailing," "Working On A Building," "Let The Church Roll On," "Wouldn't Mind Dying," "On A Hill Lone And Gray," and "On Jordan's Stormy Banks."
In early 1933, Sara and A.P. separated, partly over his absences and his temper when he was home and her too-close friendship with A.P.'s cousin, Coy Bates. Sara abandoned her home and children and went to live with an aunt several miles away. The Carters continued as a recording and performing group for several more years but the divorce effectively ended Lesley's trips to Mace's Springs although Jeanette and Gladys, two of the Carter children, later vowed that Lesley kept them from starvation by teaching them how to make gravy and biscuits.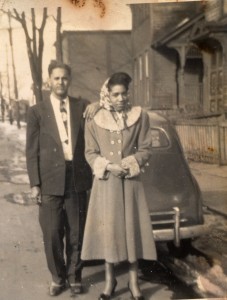 The Carters got a job playing over XERA in Del Rio, Texas and Lesley married Allie Rhea of Kingsport in 1937 and soon moved to Rochester, NY where Allie had family. Lesley played some with Son House but soon sold his guitar and quit music all together except for what he did in church. Lesley and Allie visited Kingsport and Burnsville infrequently from 1942 to 1978.
In the mid-60's, the Johnny Cash Show with Maybelle and her daughters, along with Mike Seeger and the New Lost City Ramblers, was playing a gig in Los Angeles. When Maybelle came off stage after her set, Mike asked her where she had learned "The Cannonball" and she answered "Esley Riddle of Kingsport, Tennessee." The next show was in Tucson, Arizona and Maybelle rode with Mike in his Studebaker and related the Esley Riddle story to him. ("Esley" was a name he picked up when one of Maybelle or Sara's small children could not pronounce his name. All present day Carters and many of his own relatives, call him by that name, even now.) Seeger set out to find this person, visiting Kingsport and inquiring of other musicians who performed at the folk festivals that were springing up all over the USA and Canada. Finally, at the Newport Folk Festival, Mike asked Brownie McGhee, whom Lesley had played mandolin with on a tour of the rough Kentucky coal camps when they were just in their teens, and Brownie replied, "Oh yeah, Rochester, one leg and eight fingers!"
In Rochester was where Mike found him and persuaded him to be interviewed and recorded in his living room and his shoeshine stand. Esley also accompanied the Ramblers and Seeger to some local clubs and music halls to play with them. He got Lesley into some of the more prestigious folk festivals of the time: Newport, Smithsonian and Mariposa. Mike returned to Rochester several times over the next fifteen years to visit Esley, sometimes to no avail when Esley would be out "socializing."
Allie died in 1976 and not long after, Esley, who had smoked since the age of five, found out he had lung cancer. He moved to Asheville and lived there with his brother, John Young, finally dying there in a rest home on July 13, 1979. He, Allie and his mother are buried in Horton Cemetery in Burnsville. Janette and Joe Carter spoke at his funeral.
Although Esley was as talented as his contemporaries, he never made a living at music. He subsisted as a shine boy, presser and school crossing guard. Fifteen years after Esley's death, Mike Seeger persuaded Rounder Records to release a CD of the music they had recorded in Rochester. The title track is the one song there is no debate about the authorship of, "Step By Step," which Esley was inspired to write after watching children walk across his intersection.