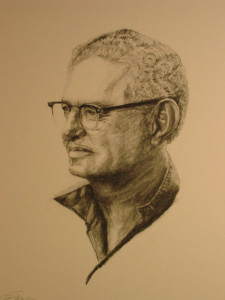 Much of the inspiration and development of country music has been attributed by the genre's founders to the African-American musicians of the South. Jimmie Rodgers and his youthful association with black railroad section gangs; Hank Williams and the street singer, Rufus "Tee-Tot" Payne; Bill Monroe, as well as Merle Travis learning from Arnold Shultz. So it goes with the Carter Family and Lesley Riddle of Burnsville, NC.
Lesley was born in 1905 in the western part of Yancey County but spent the years between 1913 and 1943 in a series of moves between here and Kingsport, TN. It was while in Kingsport in 1927 that he encountered A.P. Carter at a favorite hang out of black musicians. Lesley, who had learned guitar from his uncle, played some songs for Carter. This began a five to seven year friendship and musical partnership with The First Family of Country Music.
A.P. took Lesley home with him to Mace's Springs, VA on that occasion and many more thereafter. There, Sara, Maybelle and A.P. learned many of the old gospel, blues and railroad tunes from Lesley's repertoire. Maybelle also watched the young black man's slide and finger picking guitar technique and adapted much of it to her style—a style that countless country pickers have copied.
The Carters were in constant need of new material for Victor recording sessions. Thus, A.P. and Lesley would travel for two and three weeks at a time to the remote hollows and the few black sections of the southern Appalachians, where Carter would write down the lyrics and Riddle would play along and memorize the melody. After returning to the Springs, the Carters and Lesley would re-work the tunes into versions acceptable for the studio.
The Carters continued to record after Sara and A.P. divorced in 1933 but their move to Del Rio, TX to perform on the XERA radio station ended Lesley's association with them.
To learn more about Lesley Riddle, be sure to read the "Lesley Riddle Story" and other links on the menu on this page.